Supermicro® Total Solution for SUSE Containers
Supermicro and SUSE have partnered to deliver a SUSE CaaS Platform for building easy-to-scale, production-ready, microservices-based enterprise applications.
This validated Container-as-a-Service solution reference architecture is built with Supermicro SuperServers, and Supermicro Ethernet switches that are optimized for performance and designed to provide the highest levels of reliability, quality and scalability.
Supermicro SUSE CaaS Certified Platforms
The SUSE CaaS Platform is a Kubernetes-based, enterprise-class container management solution. It helps enterprises to accelerate modern application delivery, simplify Kubernetes administration, and maximize return on investment.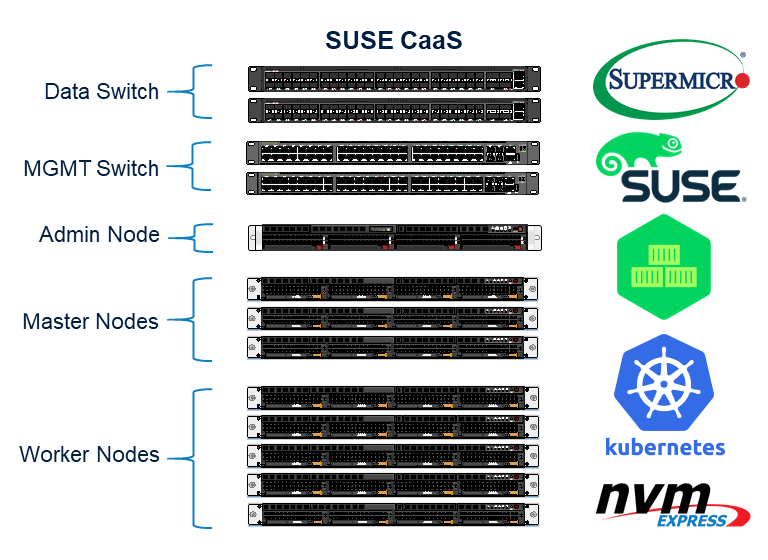 Highlights
Validated reference architectures
Certified components
Streamlined installation process
Reliable and production ready
Scale out – One rack to many racks
Greenest Servers for the Cloud – Save hundreds of dollars per server
Lowest Cost – Best Performance / Watt / $ / ft²
Supported on SUSE OpenStack Cloud 8 and Bare Metal
Supports the latest SUSE Linux Enterprise Server edition and service packs
Enterprise support for the CaaS platform is provided by SUSE in partnership with Supermicro where customers gain access to a global pool of knowledge and expertise. The partnership offers:
Support – With more than 25 years of experience, SUSE and Supermicro will deliver the support you need
Consulting – SUSE experts and partners will help you implement your Enterprise Linux solution more quickly and efficiently
Training – Whether you prefer scheduled learning with a live experienced instructor who can answer your questions, or you need an eLearning solution so you can learn on the go, SUSE has a training option to fit your needs and your schedule
SKU Details
Components Used
Qty
Admin Node
SYS-5019P-WTR
1
Master Nodes
SYS-6019U-TN4RT
3†
Worker Nodes
SYS-6019U-TN4RT
5
Software Licences
SUSE
SFT-SS-662644478227 (Activation Card SUSE CaaS Platform, x86-64, 1-2 Sockets or 1 Virtual Machine, Priority Subscription, 3 Year)
9
Optional Services
Design
PDO-CLOUD-DGN (DataCenter Design, Validation and Bootstrapping Services***)
9
Rack Integration
Supermicro Rack Integration Service*
1
Support
Supermicro Onsite Support
9
Onsite Integration
Supermicro Onsite Integration Service**
1
† The minimum number of master nodes is three.
* Racking & Cabling (with Supermicro switches); Racking & Cabling Engineering Drawing; SMC will not be responsible for 3rd party switch configuration.
** Requires SOW Onsite Survey; Onsite logistics; Racking & Cabling (with 3rd party switches); Racking & Cabling Engineering Drawing.
*** Please consult Supermicro for pricing and configuration of this service
Please consult with the Supermicro Cloud Solution Team for all SUSE CaaS related solutions. Any parts purchased individually without full testing and certification may not be fit for SUSE CaaS solutions. Please be advised to purchase the right services and warranty above for SUSE CaaS related products to avoid compatibility issues. The Supermicro Cloud Solution team is willing to help you build the right solutions anytime.
Networking Options (with 10, 25, or 40GbE Data Switches)
Standard configurations include two types of Ethernet switches – one for consolidation of management/IPMI traffic and another for use in networking data traffic. The management switch is common to all storage options. The data switch options range from a 10Gbps switch (for "Balanced" option), to a 25Gbps switch (for the "High-Performance" option) and a 40Gbps switch (for the "All-Flash" option).
 
10 GbE Data Network with Cumulus OS3
25 GbE Data Network with SMIS OS
40 GbE Data Network with Cumulus OS3
Qty
Management Switch
SSE-G3648BR
SSE-G3648BR
SSE-G3648BR
2
Data Switch
SSE-X3648SR
SSE-F3548SR
SSE-C3632SR
2
Admin Node NICs
AOC-STGF-I2S-O
AOC-S25G-M2S
AOC-S40GI2Q
2 (2 Per Node x1)
Master/Worker Node NICs
AOC-STGF-I2S-O
AOC-S25G-M2S
AOC-S40GI2Q
16 (2 Per Node x8)
Software Licenses (for networking)
Management Switch Software perpetual license with 3 yr service /support
SFT-CLSNWPL-1G-3Y1
SFT-SMCPL1G2
SFT-CLSNWPL-1G-3Y1
2
Data Switch Software perpetual license with 3 yr service /support
SFT-CLSNWPL-10G-3Y1
Included with switch2
SFT-CLSNWPL-100G-3Y1
2
1 The 10 GbE Data switch and 40 GbE Data switch options require a Cumulus OS for all switches in the solution. The Cumulus OS licenses for both the data and management switches are obtained through Supermicro using the provided SKUs.
2 The 25 GbE Data switch option requires the Supermicro (SMIS) OS for all switches in the solution. The SMIS OS for the management switch is obtained using the provided SKU. The SMIS OS for the data switch is included with the switch.
3 Cumulus Linux is a powerful open network operating system that allows you to automate, customize and scale.
Network Component Details
Supermicro SUSE CaaS Certified Platforms and Reference Configurations
12 (1 × 12) Cores
96 (6 × 16) GB RAM
4 (2 × 2) TB SATA HDD (OS)
2 RJ45 10GBase-T Ethernet ports; 1 RJ45 Dedicated IPMI LAN port
32 (2 × 16) Cores
576 (18 × 32) GB RAM
4 (2 × 2) TB SATA HDD (OS)
2 RJ45 10GBase-T Ethernet ports
Resources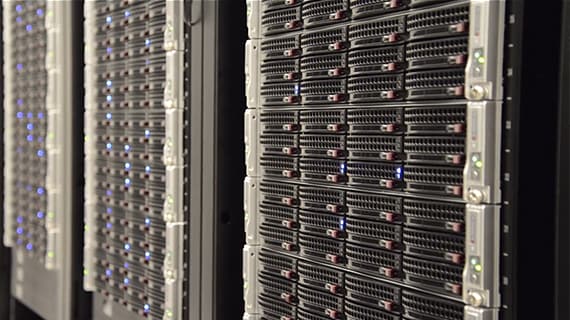 Supermicro-SUSE Kubernetes Solution Using the SUSE CaaS Platform
This white paper is intended to help an organization deploy an on-premises SUSE CaaS Platform cluster on Supermicro's BigTwin™, Ultra and SuperStorage systems with the 2nd Generation Intel® Xeon® Scalable processor to support the latest, Kubernetes compatible workloads.
View the white paper