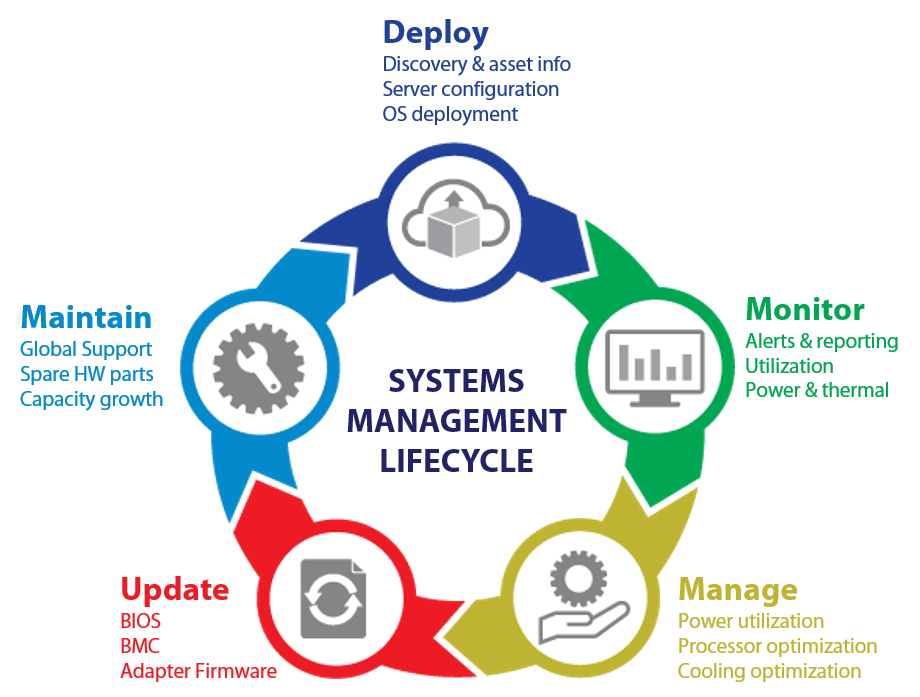 Systems Management software from Supermicro comprises a choice of comprehensive suites and management appliances focused on providing deep telemetry and capabilities for the optimal management of Supermicro systems across the lifecycle of Day 1 and Day 2 operations. Be it large or small, Supermicro-specific or heterogeneous, single site or multi-datacenter, Supermicro enables the right combination of management products and tools for your environment.
The Data Center suite includes the most complete coverage where IT Ops and DevOps administrators can utilize Supermicro Server Manager, Supermicro Update Manager and Supermicro Power Manager, and more, for the deepest of management capabilities across a Supermicro environment yet still fully utilize higher level internally developed platforms through standard interfaces (RESTful plus Redfish APIs) and CLIs enabling an aggregated heterogeneous management domain when desired. The Remote Management suite is a subset of the Data Center suite, focused on Out-of-Band (OOB) functions for Supermicro server management.
Supermicro Management Suites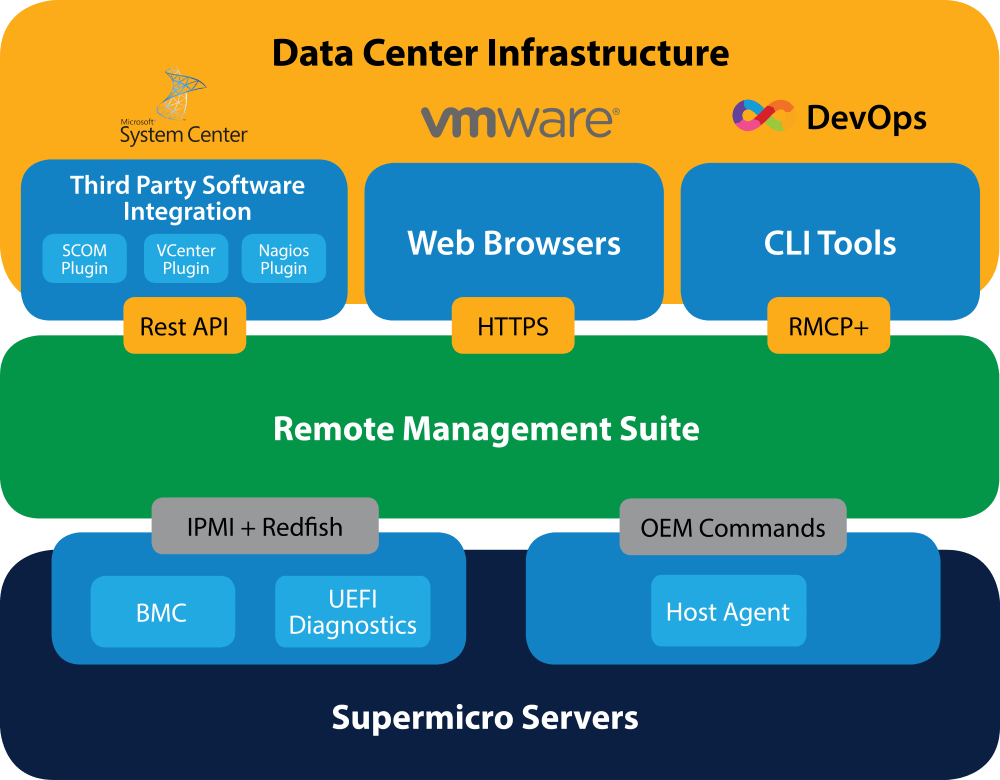 Remote Management
The Remote Management suite provides Out-Of-Band (OOB) management functionality to each specific Supermicro system. HTTPS for web access, Redfish and IPMI APIs for standards-based access and Supermicro CLIs provide multiple management interfaces for integration into internally-built tooling or commercial management applications. The monitoring of each system's health and power is provided through different Remote management suite. In addition, Supermicro CLIs utilities and APIs to integrate management of Supermicro server into existing infrastructure. Diagnostics are independent of host environment.
Data Center
The Data Center Management suite enables the management of Supermicro systems at scale across one or many data centers. With plugins for VMware vCenter, Microsoft SCOM and DevOps environments, the suite is intended to integrate with common Data Center management infrastructure. When using the Data Center Management suite, Supermicro Server Manager (SSM) provides discovery and asset automation for the Deployment phase, along with all the functionality provided from the Remote Management suite. Supermicro Power Manager (SPM) monitors power and cooling with the ability to optimize these environmentals with policy based management during the Monitor and Manage phases. Supermicro Update Manager (SUM) enables centralized updates at scale across many datacenters, and for the Maintain phase SSM can provide call home with automated ticket generation with the Supermicro Global Services Team (requires Supermicro service agreement).