Supermicro Purpose-Built AI Training Solution
4U AI Training Server with Habana Gaudi AI Processors and SynapseAI Software
Demand for high-performance AI/Deep Learning (DL) training compute has doubled in size every 3.5 months since 2013 (according to OpenAI) and is accelerating with the growing size of data sets and the number of applications and services based on computer vision, natural language processing, recommendation systems, and more. With the increased demand for greater training performance, throughput, and capacity, the industry needs training systems that offer increased efficiency, lower cost, ease of implementation, flexibility to enable customization, and scaling of training systems. AI has become an essential technology for diverse areas such as virtual assistants, manufacturing operations, autonomous vehicle operations, and medical imaging, to name a few. Supermicro has partnered with Habana Labs to address these growing requirements.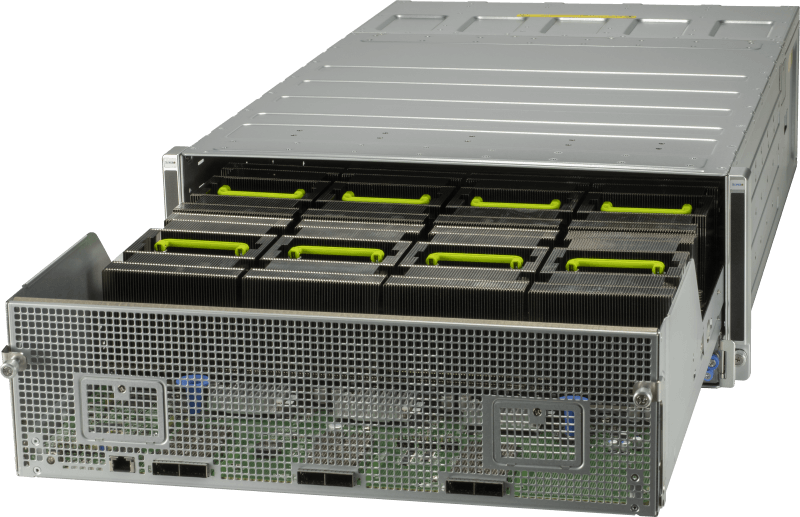 Supermicro X12 Gaudi AI Training System:
SYS-420GH-TNGR
The Supermicro X12 Gaudi AI Training System prioritizes two key real-world considerations: training AI models as fast as possible, while simultaneously reducing the cost of training. It features eight Gaudi HL-205 mezzanine cards, dual 3rd Gen Intel® Xeon® Scalable processors, two PCIe Gen 4 switches, four hot swappable NVMe/SATA hybrid hard drives, fully redundant power supplies, and 24 x 100GbE RDMA (6 QSFP-DDs) for unprecedented scale-out system bandwidth. This system contains up to 8TB of DDR4-3200MHz memory, unlocking the Gaudi AI processors' full potential. The HL-205 is OCP-OAM (Open Compute Project Accelerator Module) specification compliant. Each card incorporates a Gaudi HL-2000 processor with 32GB HBM2 memory and ten natively integrated ports of 100GbE RoCE v2 RDMA.
The system enables high-efficiency AI model training for a wide array of applications:
Computer vision applications:
Manufacturing defect detection, resulting in better products with fewer warranty issues
Fraud detection, saving billions of dollars annually
Inventory management, allowing enterprises to become more efficient
Medical imaging to detect abnormalities
Identification of photos and videos to enhance security.
Language applications:
Question answering
Subject matter queries
Chatbots and translations
Sentiment analysis for recommendation systems
Habana Gaudi AI Training System Specifications
Processor Support
Dual 3rd Gen Intel® Xeon® Scalable processors, Socket P+ (LGA-4189), up to 270W TDP
Serverboard
X12DPG-U6
System Memory
32x DIMM slots, 3200/2933/2666MHz ECC DDR4 RDIMM/LRDIM
AI Processors
8x Habana Gaudi AI processors on OAM mezzanine cards, 350W TDP, passive heatsinks
Expansion Slots
Dual x16 PCI-E AIOM (SFF OCP 3.0 superset) plus single x16 PCI-E 4.0 full height, half-length expansion slot
Connectivity
1x 10GbE dedicated IPMI LAN via RJ45, 6x 400Gb QSFP-DD ports, 2x USB 3.0
VGA/Audio
VGA via BMC
Drive Bays
4x internal 2.5" hot-swap NVMe/SATA/SAS Drive Bays.
Storage
2x M.2 NVMe OR 2x M.2 SATA3
Power Supply
4x 3000W redundant power supplies, 80+ Titanium level
Tested power draw: 4922W

*

Cooling System
5x removable heavy-duty fans
Operating Temperature
10°C ~ 35°C (50°F ~ 95°F)
Form Factor
178 x 447 x 813mm (7" x 17.6" x 32")
Weight
Gross weight: 137lbs (62kg)

*

Tested configuration:

2x Intel® Xeon® Platinum 8368 Processor: 38 cores, 76 threads, 2.4 GHz
32x 128GB DDR4 4RX4 RDIMM
2x AOC-A100G-b2CM AIOM 2-port 100 GbE QSFP28
1x AOC-S100G-b2C 2-port 100 GbE QSFP28
4x 1.2TB Intel SSD DC P3500 Series NVMe + 2x NVMe M.2
Habana Gaudi AI Processor
The Habana® Gaudi® AI processor is designed to maximize price-performance, ease of use and scalability. Training on Gaudi AI processors provides:
Efficiency – Gaudi offers up to 40% better price-performance than existing traditional AI compute solutions. Its cost efficiency enables you to train models on larger datasets and with greater frequency at lower cost.
Scalability – Every Gaudi AI processor integrates ten 100-Gigabit Ethernet RoCE ports for flexible and massive scale-up and scale-out capacity. Based on industry-standard Ethernet, Gaudi systems enable a wide-array of standard Ethernet switch solutions to build out systems, thus lowering overall system costs.
Usability – Gaudi is supported with the Habana SynapseAI® software stack and tools that simplify building new models or migrating existing models to the Gaudi platform. This means that data center operations can reduce the cost of model training without expending significant time, resource or effort to deploy Gaudi systems.
Gaudi Training Efficiency
Architected to optimize AI performance, Gaudi delivers higher efficiency than traditional processor architectures:
Heterogeneous compute architecture to maximize training efficiency

Eight fully programmable, AI-customized Tensor Processor Cores
Configurable centralized GEMM engine (matrix multiplication engine)

Software managed memory architecture with 32 GB of HBM2 memory
Gaudi Scaling Efficiency
Native integration of 10 x 100 Gigabit Ethernet RoCE ports onto every Gaudi AI processor
Eliminates network bottlenecks
Standard Ethernet inside the server and across nodes can scale from one to thousands of Gaudi processors
Lowers total system cost and power by reducing discrete components
Each of the Gaudi AI processors dedicates seven of its ten 100GbE RoCE ports to an all-to-all connectivity within the system, with three ports available for scaling out for a total of 24 x100GbE RoCE ports per 8-card system. This allows end customers to scale their deployment using standard 100GbE switches, thus achieving overall system cost advantages. The high throughput of RoCE bandwidth inside and outside the box and the unified standard protocol used for scale-out make the solution easily scalable and cost-effective. This diagram shows a system with eight Gaudi HL-205 processors and the communication paths between the AI processors and the server CPUs.
Plug-and-Play AI Training Cluster Solution:
Gaudi's integration of compute and networking functionality enables easy and near-linear scaling of Gaudi systems from one to thousands. Supermicro supports full AI data center clusters including AI inferencing (leveraging Habana Goya inference processors), CPU node and storage servers, networking systems, and complete rack solutions. As an early implementation example, the Supermicro X12 AI Training server is being deployed in the San Diego Supercomputing Center on the University of California, San Diego campus build of the Voyager supercomputer, with its 42-node scale-out.
SynapseAI Software Stack for Gaudi Systems:
The SynapseAI® software stack is optimized for the Gaudi hardware architecture and designed for ease of Gaudi use. It was created with the needs of developers and data scientists in mind, providing versatility and ease of programming to address end-users' unique needs, while allowing for simple and seamless building of new models and porting of existing models to Gaudi. SynapseAI software facilitates developers' ability to customize Gaudi systems, enabling them to address their specific requirements and create their own custom innovations.
Features of the SynapseAI stack:
Integrated TensorFlow and PyTorch frameworks
Support for popular computer vision, NLP and recommendation models
TPC programming tools: compiler, debugger and simulator
Extensive Habana kernel library and library for Customer Kernel development
Habana Communication Libraries (HCL and HCCL)
Additional Resources on Supermicro's AI Training Server Solution