Supermicro Solution for Red Hat® OpenShift® Container Platform
Openshift Server
Supermicro Red Hat® OpenShift® reference architecture comes with four different configurations to meet different workload and deployment requirements. The starting kits based on Red Hat OpenShift Ready Server Platforms enable users to scale the infrastructure with the benefit of resource optimization for both traditional and cloud-native application on a single architecture includes compute, network, and storage.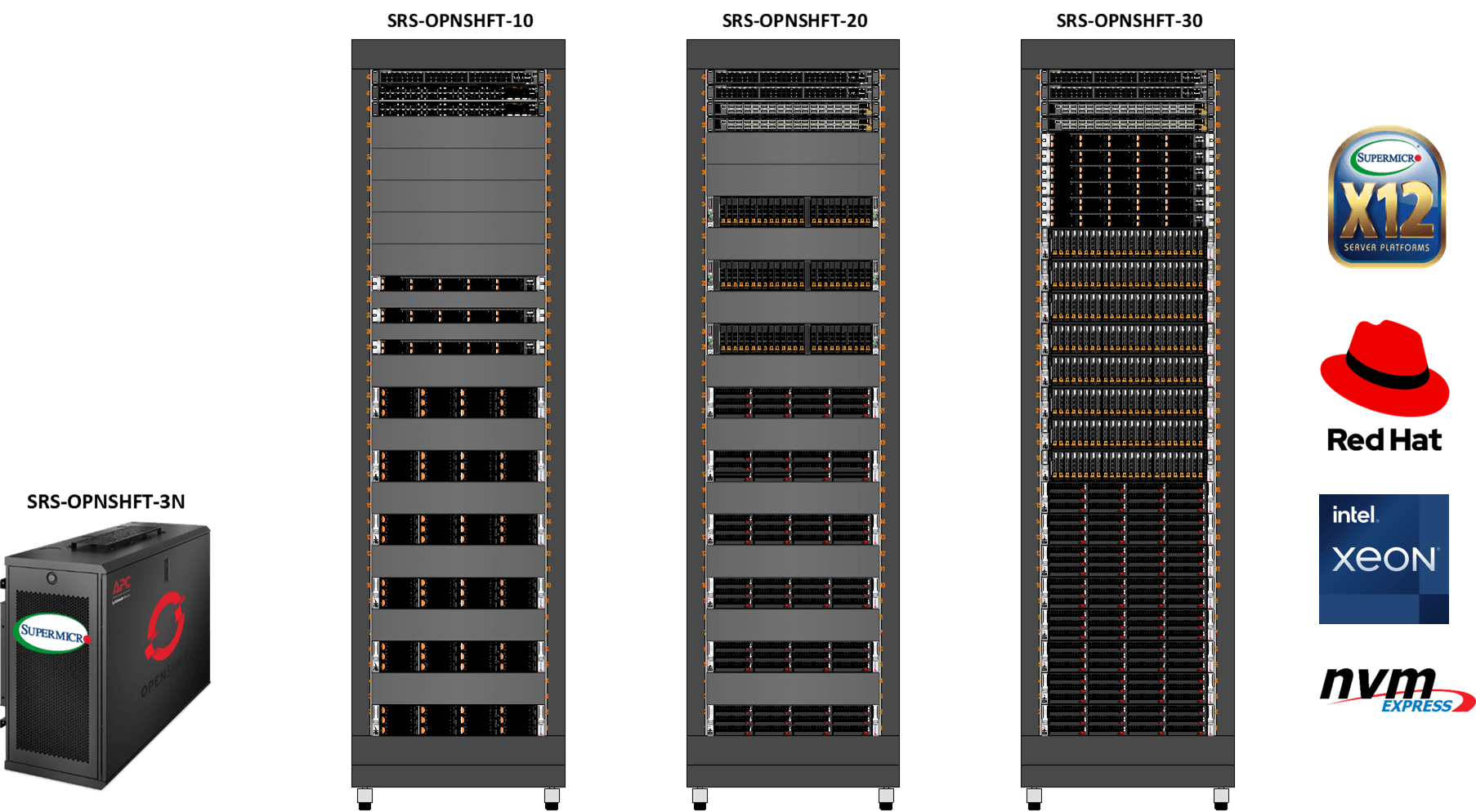 Category

Edge
Performance
High Density
Extreme
Solution SKU
SRS-OPNSHFT-3N
SRS-OPNSHFT-10
SRS-OPNSHFT-20
SRS-OPNSHFT-30
Master Node
3
3
3
3
Infra Node
N/A
3 (Co-located)
3
3
Application Node
3 (Co-located)
6
6
8
ODF Node
3 (Co-located)
6 (Co-located)
6 (Co-located)
8 (Co-located)
Total Node Count
3
9
12
14
Compute Cores
72
288
336
640
Total Memory (GB)
768
3072
3072
8192
Total NVMe (Raw TB)
46.08
138.24
138.24
184.32
Total Object Storage (TB)
138.24
0
864
1152
GPU
3x

NVIDIA T4

12x

NVIDIA A30

N/A
8x

NVIDIA A100

Mgmt Network
2x 10G
2x 1G
2x 10G
2x 10G
Data Network
2x 10G
4x 25G
2x 100G
2x 100G
Mgmt Switch
2x SX350X-12
1x

SSE-G3648BR

1x

SSE-G3648BR

2x

SSE-G3648BR

Data Switch
Same as Mgmt Switch
2x

SSE-F3548SR

2x

SSE-C3632SR

2x

SSE-C3632SR

Rack
6U 648mm x 968mm
42U 750mm x 1200mm
42U 750mm x 1200mm
42U 750mm x 1200mm
PDU
Dual 120V 15A NEMA 5-15p
Dual 208V 30A

L6-30P

Dual 208V 30A

L6-30P

Dual 208V 30A

L6-30P

Software
Red Hat

OpenShift 4

+ Red Hat OpenShift Data Foundation 4
Supermicro Red Hat® OpenShift® Solution Advantages
Supermicro and Red Hat have partnered to develop a best-in-class solution based on industry-leading SuperServers, SuperStorage and Red Hat® OpenShift®. The solution delivers CaaS, PaaS and FaaS infrastructure to the enterprise environment with performance and efficiency.
Utilizing latest technologies such as Intel® Xeon® Scalable processors, high-performance NVMe technology, 25G Ethernet, resource-saving SuperServer and SuperStorage
Built-in security for container-based applications with role-based access control and Security-Enhanced Enterprise Linux (RHEL)
Capable of deployment in less than an hour, with high availability and persistent storage, automated with Red Hat Ansible, and configured to be horizontally scalable to multiple racks
For demanding workloads such as AI and Big Data, hardware accelerated performance options are available including Intel® Optane® DC Persistent Memory Modules, GPU accelerators and 100GbE networking
Variety of compute and storage server platforms optimized for application workloads
Running RHEL and Red Hat® OpenShift® Container Platform, a bare-metal on-premises solution purpose-built for DevOps, optimized for high performance and high efficiency
Designed for Reliable Large-Scale Cloud Deployments
With ever-growing competition, enterprises have to accelerate their product development cycle to keep up with new technologies and stay ahead. Businesses need to regularly release customized applications for instant and growing demand from external and internal users who rely on digital transformation to gain competitiveness.
The Supermicro and Red Hat® OpenShift® Container Platform solution offers integrated hardware, software and support packages built with Kubernetes which provide agile deployment and management of containers in an on-premises, private, and hybrid cloud environment.
The modern enterprise needs to build, deploy, and manage container-based applications consistently across cloud and on-premises infrastructures with speed and agility. Effective DevOps strategy becomes a key element for organizations to succeed in the digital transformation journey.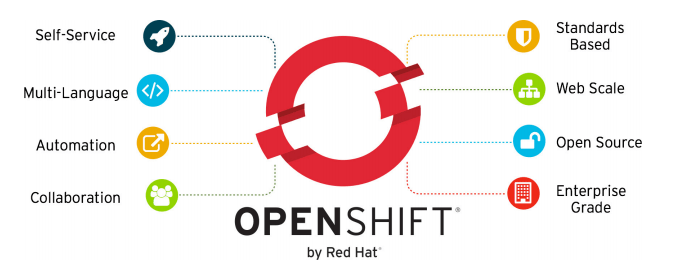 Red Hat® OpenShift® is a complete container application platform that natively integrates technologies including Docker and Kubernetes – a powerful container cluster management and orchestration system – and includes an enterprise foundation in Red Hat Enterprise Linux®.
The Red Hat OpenShift Container Platform offers enterprises full control over their Kubernetes environments. It handles cloud-native and traditional applications on a single platform. The platform has built-in security from infrastructure to services, throughout the operations and application lifecycle.
Supermicro OpenShift Ready Server Platforms
Master/Infra/App node option
Networking Switch Options
Red Hat, Red Hat Enterprise Linux, OpenShift, Ansible, Ceph, and the Shadowman logo are trademarks or registered trademarks of Red Hat, Inc. or its subsidiaries in the United States and other countries.
Linux® is the registered trademark of Linus Torvalds in the U.S. and other countries.