Supermicro® Total Solution for Canonical OpenStack with Intel Based Servers
The fully managed private cloud service from Supermicro in partnership with Canonical is the fastest and most cost-effective path to a private OpenStack cloud.
Supermicro and Canonical partnered to deliver Ubuntu OpenStack, the most popular platform for OpenStack deployments. Canonical is committed to OpenStack by producing high-quality releases of OpenStack on a cadence with OpenStack Foundation releases.
Canonical OpenStack provides the easiest way to design, deploy, manage, and scale OpenStack clouds.
Supermicro Canonical OpenStack Certified Platforms
Join more than 70% of production OpenStack clouds by building yours with Supermicro and Canonical.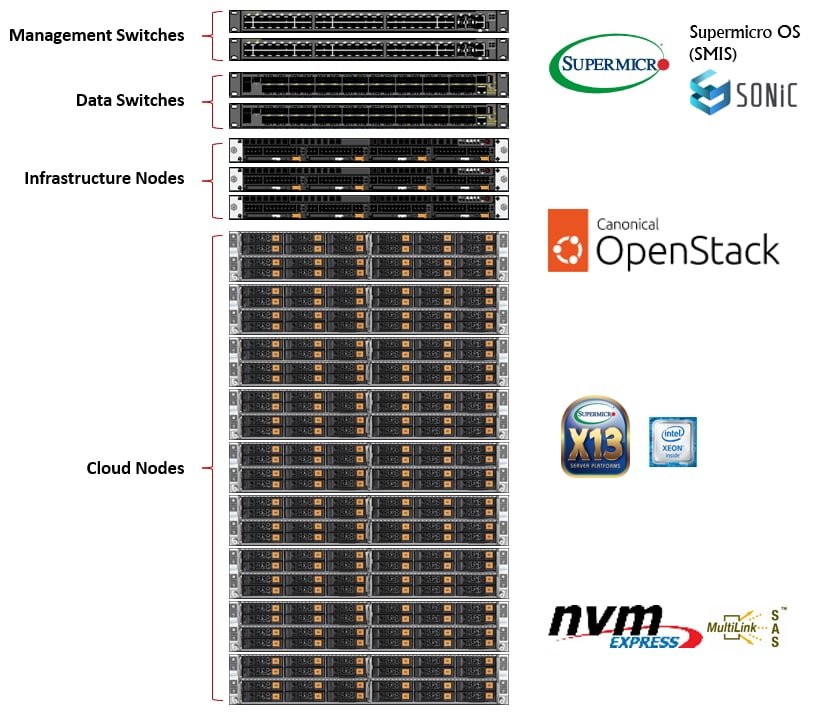 Highlights
Validated reference architectures
Certified components
Fully managed cloud on your servers, at your location
Built in two weeks using a proven reference architecture.
Customize the architecture in iterations based on workload.
Scale out - One rack to many racks.
Greenest Servers for the Cloud - Save hundreds of dollars per server.
Lowest Cost - Best Performance / Watt / $ / ft²
Start as a pro by leveraging expertise support and services.
Enterprise SLA for your cloud API services.
Robust, OpenStack native data protection capabilities
Your team has access to all machines at all times
Modern monitoring and log management
We will hand over the keys when you are ready.
Enterprise support is provided by Canonical in partnership with Supermicro where you gain access to a global pool of knowledge & expertise. The partnership offers:
Focus on your business while Supermicro and Canonical takes care of your first OpenStack.
Discovery and design service - Together, we design your cloud to the required size and specifications — on premise or hosted or hybrid.
Bootstack service - Our experts will deploy, manage and monitor 24/7 availability of your new cloud.
Transfer Control - will train and ensure a smooth transition.
Supermicro Total Solutions for Canonical OpenStack
Description
Total Solution for Canonical OpenStack
Solution Components
2x IPMI/ Management switches 
2x Data switches for data/workload networking 
3x Infrastructure Nodes 
9x Cloud Nodes
# Cores
Value Option - 288 Cores 
Balanced Option - 432 Cores 
Performance Option - 576 Cores
Total Memory
Value Option - 4608 GB 
Balanced Option - 9216 GB 
Performance Option - 18432 GB
Raw Storage
Value Option - 324 TB (SAS HDD) 
Balanced Option - 345.6 TB (SAS SSD) 
Performance Option - 345.6 TB (NVMe SSD)
Height
25U